Click here for water bottle pricing.
Looking for a multi-season advertisement product that will be sure to get attention? Custom printed water bottles are a great form of advertisement all year round! Perfect for sporting events, these customized bottles can be used to get the word out about any company! Looking for a way to spread school spirit? Custom imprinted bottles are great tools for school spirit!
From polycarbonate bottles to plastic water bottles, we have what you need when it comes to custom imprinted drinkware! With many styles and sizes available, you can't go wrong with customized bottles! Most of our custom printed bottles are available with free assembly, and several of our products are available with rush service! For more information on our custom imprinted bottles, feel free to give us a call at the number above, or, click the button below to receive a free catalog!
Some of the bottle styles we offer include:
Sports Bottles
Custom printed sports bottles are a great form of advertisement for any event! Perfect for sports teams, souvenirs, picnics and more, these custom imprinted sports bottles can be a perfect advertisement tool in any promotional campaign! Guaranteed to be a hit and low on cost, customized sports bottles will add a personalized look to any event while drawing attention to your company name or logo!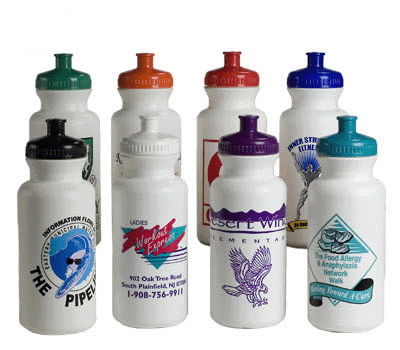 Polycarbonate Bottles
Our custom printed polycarbonate bottles are perfect for any occasion! Low priced and high in quality polycarbonate bottles are sure to be a crowd pleaser. Pass them out at trade shows, sporting events, or anywhere else! With stylish colors and quality printing, these custom personalized polycarbonate bottles are sure to get your name in the minds of potential customers.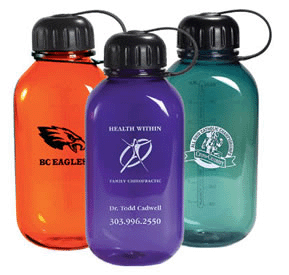 Bottled Water
Not only do we offer custom water bottles, we also offer custom printed bottled water! Pre-filled with natural spring water, this refreshing advertisement is perfect for outdoor advertisement. For more information on our custom personalized bottled water, feel free to give us a call at the number above! Our friendly customer service representatives will be glad to help you out!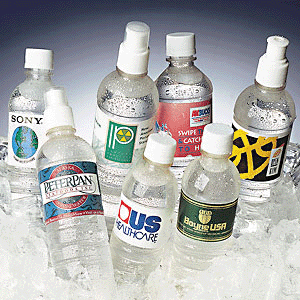 Looking for more information on water bottles? Feel free to visit our HUGE CATALOG by clicking here!